So, you're a solo traveller
When travelling alone, a great way to make new friends is to share a room with another traveller, as well as keep your costs down.
You might be anxious about going it alone, and you're not the only one. We have had a few self-confessed 'group tour sceptics' and first-time solo travellers and after their first tour, they just keep coming back for more.  Many have told us they have now made new friends for life.
Perhaps, your partner does not like travelling, or your friends keep letting you down or you don't have a suitable travel companion!
What if you've got the urge for adventure, but no-one to do it with? Over 50% of travellers on our tours are travelling solo, which is why travelling as part of our small group tours has its perks. We've got expert tour hosts to show you around, ready-made friends who are itching to explore (just like you), and we can match you up with another traveller to avoid the single supplement and/or you have the optional single supplements if you want a room all to yourself. All you have to do is turn up with a smile and a passport: we'll handle the rest.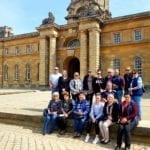 Your tour host
When you're all by yourself, you feel uncomfortable going out for dinner alone. You wander within a few blocks of your hotel, see a few of the big sights and that's about it. But solo travel on a group tour isn't like that. Each of our trips has a tour host who takes care of you and ensures you are made to feel part of the group. You will be seated together at events, meals are generally shared and we ensure you are having a great time. The host is around every evening for those who want to dine together or enjoy a drink after a busy day. We are there to help and give you tips for your free time exploring and our tours can also offer flexibility if you do prefer to do your own thing.
Ready-made friends
Go solo, but not alone. That's our motto. Snaffle Travel tour offers tours from ten people – guests of all ages and backgrounds although mostly from Australia and New Zealand. You've got ready-made friends to share a drink with, or just a chat over the breakfast table. You are also travelling with like-minded horsey people with a common interest. For a solo traveller, it's a nice perk to have.
Convenience and ease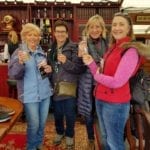 We've been putting our tours together since 2015 and honing our itineraries, improving our hotels and keeping the good ones, picking the best restaurants to visit, and organising transport and all the other logistics of travel so you don't have to worry. Travelling alone can often be a) confusing and b) complicated. But with us, all you need is a good attitude – we'll take care of the rest. You just have to turn up.
Safety
Our hosts are well travelled and know the areas and if there are any areas to avoid after dark, we will tell you. They know how to haggle at markets, avoid pickpockets and scammers and generally have a good time without anything going wrong. And don't forget, when you travel solo on a group tour, you're in a group! You'll have a bunch of new friends to watch your back (and your stuff). It's all the flexibility and freedom of independent travel, but without the risks.
Many make wonderful new friends and forget their anxiety and really come out of their shell.
You have someone to share your amazing experience with on the tour. We offer tours where people can travel together and all have a common interest and encourage you to share your travel adventures and tales.
Plus, it's a great way to tick off the bucket list and see parts of the world you may feel uncomfortable exploring on your own. If you want to do things on your own, consider a day tour to familiarise yourself with a city and get to know the local way of life.
What our travellers have told us
Many of our past travellers become best friends and still catch up with one another and make long life friends.
Just wanted to say a big thank you to Tania. I was on this year's Badminton Trip/Windsor Horse Shows trip and it was just wonderful. We had a great time, well organised with plenty of free time in between. I travelled alone, but with a wonderful group of people on our trip, I made some great friends. If Badminton is on your "bucket list", book in. It really is a trip of a lifetime.
Kim Greenan, NSW
I've spent the past 20 years travelling the world, but the Badminton Horse Trials tour was the best holiday I've ever been on. The tour pluses for me, & why I will definitely be travelling with you again. Everything was arranged for us; nothing was too much trouble. I made friends for Life from the Badminton tour, and will definitely be travelling with Tania again…
Jody Henderson, Victoria
It's the best thing I have ever done. I wouldn't have done this on my own. I loved the companionship and could relax and there was no stress. The Spain Riding holiday and the Badminton Group tours were more appealing doing it with a group.
Susan Pearce, Victoria
Note: If you do choose to share a room.  We are unable to guarantee that your roommate will be of a similar age group or personality, it can be an enjoyable way to meet people from all walks of life!  Of course, if you prefer a room to yourself the single supplement will apply, but this can also be a great way to test the waters if you are new to travelling in a group as a solo woman!
If you have any questions about sharing or your accommodation, contact Snaffle Travel.  Snaffle Travel offers Equestrian tours to major equestrian events, riding holidays as well as all travel arrangements all over the world. Contact us: info@snaffletravel.com.au or Call (Australia) +61 (0) 427 286 061. Web: www.snaffletravel.com.au.