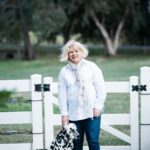 Tania Huppatz
CEO & Founder
An experienced travel agent and horse woman, Tania and the team at Snaffle Travel offer more than 20 years travel industry experience to give you a unique equestrian tour or holiday with the perfect blend of riding, sightseeing and culture at an affordable price.
As equestrians ourselves, we hand-select the group tours and horse-riding holidays available to fulfil the interests of our clients. While each client has their own background in horse sports, such as Dressage, Show Jumping, Showing and Trail Riding, we innately understand what makes a holiday simply unforgettable.
Many of our equestrian group tours and holidays are designed for you, with flights, accommodations, transfers, meals and sightseeing included, so all that's left for you to do is pack your bags and remember your passport. We also offer sharing options, so you can plan your travel independently, but enjoy the benefits of booking with a group.
Bookings are strictly limited and each of our tours fill up fast every year. To register your interest or if you would like further information, please send us an email. Our travel destinations are growing each year, so if you can't find the precise holiday you're looking for, we can create a tailored holiday just for you.
Call us today on +61 427 286 061 or +61 3 5428 6061.

We specialise in Equestrian 🐎 Travel and have a passion to ensure you get to see the "Worlds Best Horses & Rider Combinations",  in action as well as experience an amazing travel journey. 
We are focused on connecting you with a sense of community, adventure and freedom through like-minded people, places and memorable moments.
Truly amazing holidays shared with friends you will remember for many years, not just whilst on tour but well beyond your plane trip home. We don't just sell trips – we sell experiences. With Snaffle Travel the journey is more than important than the destination.
What does this mean for you?
We understand and have relationships with a wide variety of accommodation, sightseeing and transport providers around the world.
We know first hand the best places to stay, the amazing experiences to enjoy, where to eat, shop and absorb the local culture of any destination.
We regularly and consistently put together high-quality tours for our clients from all around Australia and New Zealand.
For years we've been perfecting our tours to ensure you have an amazing experience to create wonderful memories.
Our pricing is detailed and transparent.
We provide an environment for you to sit back and relax, make wonderful new friendships and enjoy memorable holiday experiences.
Create your own holiday
If you want to customise a tour or travel with family or friends, give us a call. We are a travel agency backed by ATAS.
Can't find the destination you're looking for?
Call us on: +61 427 286 061  or email us today to discuss your next holiday or horse riding holiday.
Some of the many places we visit on our tours…